---
---
 Make 4 interest-free payments starting from $37.50
fortnightly with 
Parallax
Grad-Dual Feeder

Anti tip - Anti choke floor feeder for concentrate feed. 



A non tip slow feeding trough for hard feed. PROVEN to slow down consumption by 50% or longer.
Avoids wasted supplements and medication



The slow feeding channels and basins slow down the consumption of hard feed.

12 smooth feeding basin's each 50mm deep
Allows a natural eating position and healthy eating patterns.
Prevents gulping and scoffing therefore avoiding CHOKE. (blocked oesophagus.)
Increased saliva production from chewing for longer helps with ulcer management.
Weighs 4Kg or up to 16 KG when ballasted with water or sand.
Non tip, avoids wastage of expensive supplements .
Made from tough, frost resistant, food grade plastic.
Suitable for wet or dry feed.
Measures 60cm x 50m x 17cm tall. 14L capacity.
Can be left outside year round.
Aussie Grazers are a proud importer and distributor of Parallax products in Australia.

Buy with confidence - All Aussie Grazers products are backed with a 45 day return policy on unused items. 
---
Customer Reviews
Excellent - significantly slowed down his eating
Really happy with it. It did take him a couple of days to get used to it - I wondered to start with if I'd done the right thing because he struggled to eat from it and got quite angry with it. He's now worked out the technique and it's made a huge difference - he no longer bolts his food and he's happy to eat from it.
07/29/2021
Danielle S.

Australia
Excellent result with serial feed bin tipper!
Couldn't be happier with the feeder. Our boy is a repeat offender, using both his feet and teeth to tip feed bins. Day one he was slightly frustrated, couldn't get a grip with his teeth so went back to his old try hook the foot in approach. We added water into to base to increase the weight/difficulty and although he can slide it a little he can't manage to hook and flip. A couple of weeks on he has all but given up, occasionally giving the outside a disapproving nudge with his foot. Going to buy a second for the little retired pony once back in stock, not to stop a tipping issue but to give her a little more stimulation with the slow feed channels. Wish I had of known about these when we had our prone to choke pony.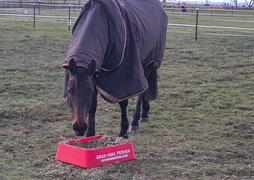 07/22/2021
Jessie R.

Australia
Gradual feeder
Very happy. We now have multiple gradual feeders for our ponies both those being treated for founder and those who like to eat quickly. The feeders are robust and slow the intake down noticeably. Very happy